Ad blocker interference detected!
Wikia is a free-to-use site that makes money from advertising. We have a modified experience for viewers using ad blockers

Wikia is not accessible if you've made further modifications. Remove the custom ad blocker rule(s) and the page will load as expected.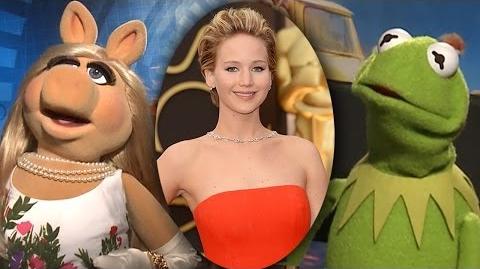 Clevver News is self-described as a "youth-focused website and resource to find the hottest young Hollywood and teen celebrity" information.
On March 20, 2014, their YouTube channel published a video from the Muppets Most Wanted press junket. Interviewer Erin Robinson conducted a word association game with Kermit the Frog, Miss Piggy, Constantine, Ricky Gervais, Tina Fey, and Ty Burrell. Some of their answers included:
Moles
Tina Fey: Constantine
Ty Burrell: deceptive
Kermit: Constantine
Piggy: furry animals
Jared Leto's hair
Tina Fey: hombre
Ty Burrell: beautiful
Constantine: applesauce
Tina Fey: one of the greatest non-existant singers of all time
Ricky Gervais: she sounds like John Travolta
Piggy: a doobie-doo
JLaw
Tina Fey: I love her, Jennifer Lawrence, yeah?
Ricky Gervais: the singer, "I'm still Jenny from the block."
Constantine: From The Hunger Games. There are two of them. There's a J-Lo and JLaw.
Kermit: JLaw?
Piggy: J-Lo
Piggy and Kermit: Jell-O!
Piggy: lovers and dreamers
Tina Fey: bless their hearts; it's gonna be okay
Ty Burrell: young
Ricky Gervais: atheists
Selfies
Constantine: this is hard game for frog, you make my head hurt here
Tina Fey: overtaking the world
Totes
Ty Burrell: carry-ons and also totally
Tina Fey: the 1970s rainbow product
Kermit: toads?
Piggy: m'goats
Gingers