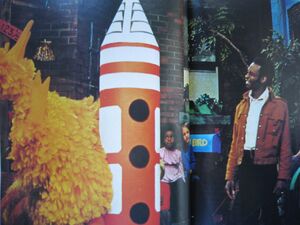 Cleavon Little is an Tony-award winning African-American actor, who appeared in Episode 0270 of Sesame Street, as "Pete". He is best known for his role in the Mel Brooks' film Blazing Saddles (for which he replaced Richard Pryor, the co-writer of the film) and the 1970s sitcom Temperatures Rising.
Little's television guest appearances include The Love Boat, ALF, The Mod Squad and All in the Family. On Broadway Little appeared in Purlie and I'm Not Rappaport (with Judd Hirsch).
Little got Dolores Robinson, Matt's wife, a job answering phone for his agent. This lead to her creating Dolores Robinson Entertainment; her first client was LeVar Burton, who was joined by Martin Sheen, Emilio Estevez, Randy Quaid, Harry Hamlin, daughter Holly Robinson Peete, Wesley Snipes, Jennifer Beals, and Montel Williams.[1]
References
↑ "Manager Moms", Ebony, March 1993.
External links