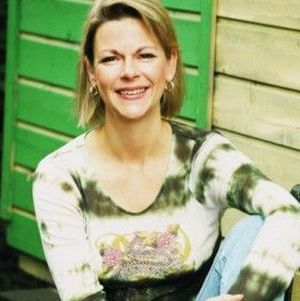 Claudia Lössl (b. 1966) is a German voice actor who dubbed Tizzy the Bee on Jim Hensons Animal Show mit Stinky und Jake (The Animal Show). She also dubbed unseen older sister Molly in Die wundersame Geschichte vom Weihnachtsspielzeug (The Christmas Toy) and Belle in Die Muppets Weihnachtsgeschichte (The Muppet Christmas Carol). For the German dub of the Creature Shop-effects film The Hitchhiker's Guide to the Galaxy, she dubbed newscaster Jin Jenz.
Lössl has appeared on-camera in episodes of the German series Der Alte, Derrick, and Tatort. She is the primary German voice of Penelope Cruz and Naomi Watts (including King Kong). She dubbed Drew Barrymore in Scream and other movies, Kristen Wiig in Adventureland and MacGruber, Marisa Tomei in Real Love, Renée Zellweger in Chicago, Halle Berry in Beverly Hills Beauties, and Ricki Lake in Mrs. Winterbourne. TV dub roles included Christina Applegate on Married... with Children, Paula Marshall on Out of Practice, Lena Headey on Game of Thrones, and Julie Bowen on Boston Legal.
In animation, Lössl dubbed Coral in Finding Nemo, Velma in the Scooby-Doo franchise, Jessie on Pokémon and its spinoffs, a character in the German animated feature Kleines Arschloch, various roles on Futurama and South Park, and a computer voice in the English dub of the German animated feature Boo, Zino and the Snurks. For audio releases, she voiced the Snorkmaiden in the Moomins series and Tinkerbell in a non-Disney Peter Pan.
External links