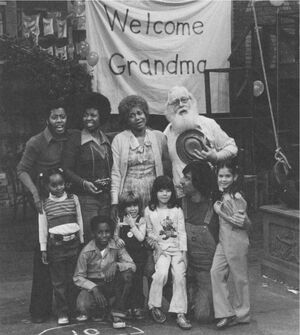 Clarice Taylor (1927-2011) was an actress who recurred on Sesame Street as Harriet, David's grandmother, from 1977 until 1989.
On Broadway Taylor played Addaperle, the Good Witch of the North, in The Wiz. Flim credits include Clint Eastwood's Play Misty for Me, Sommersby (with Jodie Foster) and Smoke (with William Hurt). On television Taylor appeared on Sanford and Son and was mother Anna to Bill Cosby's Cliff Huxtable on The Cosby Show, which led to Taylor's sole Emmy nomination.
Her acting career spanned more than five decades, and included radio, television, and film. She co-founded the American Negro Theatre in Harlem.
External links
Ad blocker interference detected!
Wikia is a free-to-use site that makes money from advertising. We have a modified experience for viewers using ad blockers

Wikia is not accessible if you've made further modifications. Remove the custom ad blocker rule(s) and the page will load as expected.