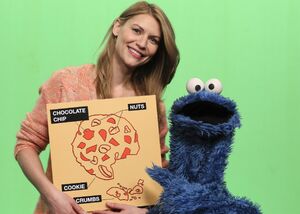 Claire Danes (b. 1979) is an actress whose credits include starring in Terminator 3, Homeland, My So-Called Life, Juliet in Baz Luhrmann's Romeo + Juliet, and Cosette in the 1998 film production of Les Miserables.
Danes appears in Season 45 of Sesame Street, presenting the word "diagram" with Cookie Monster in a Word of the Day segment.
Ad blocker interference detected!
Wikia is a free-to-use site that makes money from advertising. We have a modified experience for viewers using ad blockers

Wikia is not accessible if you've made further modifications. Remove the custom ad blocker rule(s) and the page will load as expected.