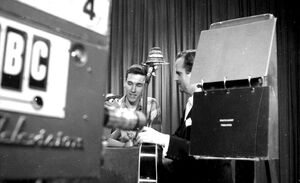 Circle 4 Ranch was a weekend local kids show in Washington, D.C., hosted by Joe Campbell, a singing cowboy. In 1954, Circle 4 Ranch expanded from 30 minutes to 60, and Campbell decided to fill the additional half-hour with songs and skits, "and thought it might be interesting to add puppets to chat with, in the same way Buffalo Bob Smith interacted with his marionette co-stars on NBC's powerhouse kids show Howdy Doody."[1]
That suggestion led to show producer and director Bob Porter introducing Campbell to Jim Henson, who had been hired as a set designer for the show. Henson had agreed to build and perform some puppets, Longhorn and Shorthorn, that Campbell had created and designed,[1] and would provide the voices via pre-recorded tracks.[2]
The show would end six months after Henson joined the show.[1]
Sources
↑ 1.0 1.1 1.2 Jim Henson: The Biography by Brian Jay Jones, page 36.
↑ Jim Henson: The Biography by Brian Jay Jones, page 41.
Ad blocker interference detected!
Wikia is a free-to-use site that makes money from advertising. We have a modified experience for viewers using ad blockers

Wikia is not accessible if you've made further modifications. Remove the custom ad blocker rule(s) and the page will load as expected.