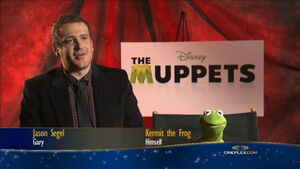 Cineplex is self-described as "the largest motion picture exhibitor in Canada and owns, leases or has a joint-venture interest in 130 theatres with 1,351 screens serving approximately 70 million guests annually."
Andrea Miller interviewed Jason Segel and Kermit the Frog in promotion for The Muppets on November 08, 2011.
Segel likens making the movie to giving birth to a baby and credits the Muppets' lasting quality to their wide-eyed naivete.
Cineplex also interviewed Segel and Kermit on set. (YouTube)
External links
Ad blocker interference detected!
Wikia is a free-to-use site that makes money from advertising. We have a modified experience for viewers using ad blockers

Wikia is not accessible if you've made further modifications. Remove the custom ad blocker rule(s) and the page will load as expected.