Written by
Andrew DeGraff
Illustrator
Andrew DeGraff
Published
2017
Publisher
Quirk Books
Pages
160
ISBN
1594749892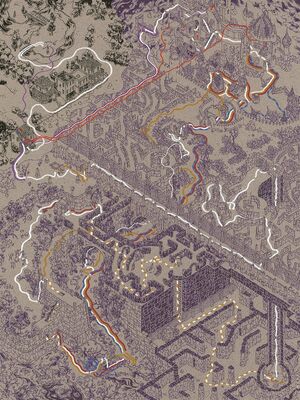 Cinemaps: An Atlas of 35 Great Movies is a collection of maps that trace the movements of key characters as they progress through the plot of a movie. Illustrated by Andrew DeGraff, the book is a follow-up to 2015's Plotted: A Literary Atlas mapping out steps taken by characters from classic literature.
The 19th entry in the book covers Labyrinth with delineated movements following paths taken throughout the narrative by Sarah Williams, Jareth the Goblin King, Hoggle, Ludo, Sir Didymus, and Ambrosius. The detailed map begins in the world where Sarah lives and follows into the realm of the Labyrinth, including all of the locations the characters traverse throughout the film.
In the commentary, DeGraff compares the setting of Labyrinth to Jim Henson's 1969 television project The Cube, in that the main character finds themselves trapped in an unfamiliar space. Details in the map include the hidden Jareth faces, and Humongous, the mechanical giant guarding the door to Goblin City.
The artwork is also sold separately as a print titled Paths of the Labyrinth on nineteeneightyeight.com. In addition to the main map, the book's cover incorporates the Labyrinth into other maps featured in the collection which include King Kong, The Wizard of Oz, North by Northwest, The Good, the Bad and the Ugly, Monty Python and the Holy Grail, Jaws, Star Wars, Alien, Raiders of the Lost Ark, Star Trek II: The Wrath of Khan, Ghostbusters, The Breakfast Club, Back to the Future, Edward Scissorhands, Terminator 2: Judgement Day, The Silence of the Lambs, Jurassic Park, Pulp Fiction, Clueless, and The Lord of the Rings.
See also
External links