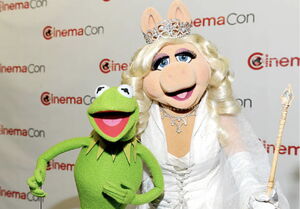 CinemaCon is the official convention of the National Association of Theatre Owners. The convention is targeted at film industry professionals for the purpose of promoting upcoming movies.
The first con was held on March 29, 2011 in Las Vegas, Nevada. Dave Hollis appeared representing The Walt Disney Company to promote The Muppets. Actors Jason Segel and Amy Adams accompanied Hollis, making one of the first official promotional appearances for the film.
Kermit the Frog and Miss Piggy appeared at CinemaCon on April 24, 2012 to officially announce that a sequel to The Muppets was in development.
External links
Ad blocker interference detected!
Wikia is a free-to-use site that makes money from advertising. We have a modified experience for viewers using ad blockers

Wikia is not accessible if you've made further modifications. Remove the custom ad blocker rule(s) and the page will load as expected.