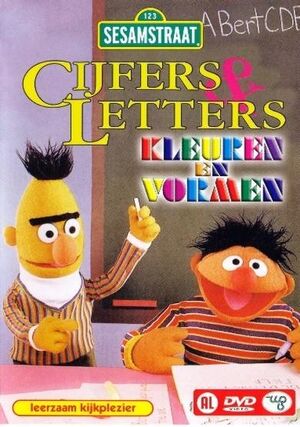 Cijfers & Letters/Kleuren & Vormen (Numbers & Letters/Colors & Shapes) is a DVD release of Sesamstraat, the Dutch co-production of Sesame Street. The DVD was early released as 2 separate videotapes.
The DVD contains a sixty minute compilation of insert clips from the Dutch episodes and American clips dubbed to Dutch. The first half focuses on numbers and letters. The second half focuses on colors and shapes.
This DVD was the third Sesamstraat DVD produced by Weton Wesgram (SESDV003) in a series of Sesamstraat compilation DVDs.
Segments
Numbers & Letters
Expositie 5-5-5 (Exposition 5-5-5)
De Eerste Schooldag (The First Day of School)
Sesambingo: 9
Ernie's Alfabet Verhaal (Ernie's Alphabet Story)
Het Koeien van Letters Lied (The Real Big Letter Song)
Grover's Restaurant Specialiteit no. 9
Aart is De Letter K Kwijt (Aart losts the letter K)
Zestien Samba (Sixteen Samba)
Cijferquiz: 1 (Number Quiz:1)
Een "Z" Picknick
Letterrobots
Colors & Shapes
Kleuren (Colours)
De Kleur is Zwart (The Colour is Black)
Wat is Het? (What is It?)
Klok (Clock)
Ketting (Chain)
Lichtblauw Potlood Lied (Light-blue Pencil Song)
Het Tweekoppig Monster Maakt een Vierkant (Two-Headed Monster Makes a Square)
Vormen (Shapes)
Cirkels (Circles)
Behang (Wallpaper)
Ernie's Koekjes (Ernie's Cookies)
Ik Kom Er Rond Voor Uit (I Come Out Round for This **)
Letter C
Op Zoek Naar Blauwe Dingen (Looking For Blue Things)
** 'I Come Out Round for This' is free translated and means in Dutch that you are really without doubt, telling something you stand for..