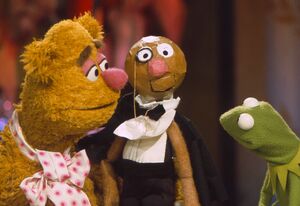 Chuckie is the ventriloquist's dummy used by Fozzie Bear in episode 207 of The Muppet Show. Fozzie tries to use him in his act as a means of keeping up with guest and master ventriloquist artist Edgar Bergen, but he is frustrated when Chuckie initially remains silent, and shakes the dummy until he falls apart. Chuckie does speak of his own volition later on.
Chuckie was built in a rough-hewn style by Rollie Krewson. He has the distinction of having appeared in toy form as an accessory with Palisades Toys' Stepping Out Fozzie Action Figure. To some extent, the character anticipates the later character Gary Cahuenga, a living dummy seen on Muppets Tonight.
See also
Ad blocker interference detected!
Wikia is a free-to-use site that makes money from advertising. We have a modified experience for viewers using ad blockers

Wikia is not accessible if you've made further modifications. Remove the custom ad blocker rule(s) and the page will load as expected.