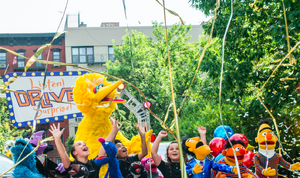 In July 2017, Chrysler and Sesame Workshop announced a partnership, wherein Chrysler will sponsor Sesame Street on PBS and develop original content with Sesame Workshop for their digital platforms, including a series of ten videos promoting their new Chrysler Pacifiica mini-van.
Listen! Drive! Surprise!
The first four videos of the partnership were uploaded to YouTube on July 17, 2017. The videos were filmed in Tompkins Square Park a month prior.
In the videos, the Sesame Street Muppets split off into two teams (led by Grover and Bert) competing in Guy Smiley's game show, Listen! Drive! Surprise!
The videos feature appearances by Big Bird, Elmo, Abby Cadabby, Grover, Cookie Monster, Count von Count, Oscar the Grouch, Ernie (performed by Peter Linz), Bert, Guy Smiley and a pair of penguins.
On the Go Game Show
A second series of videos were uploaded to the official Sesame Street YouTube channel on July 31, 2017. These videos star Guy Smiley, hosting different editions of the On the Go Game Show from inside the various Muppet characters' vehicles.
Other
See also
External links
Ad blocker interference detected!
Wikia is a free-to-use site that makes money from advertising. We have a modified experience for viewers using ad blockers

Wikia is not accessible if you've made further modifications. Remove the custom ad blocker rule(s) and the page will load as expected.