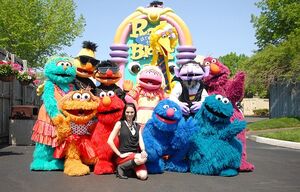 Christy Carlson Romano (b. 1984) is a singer and actress, perhaps best known as the voice of Kim Possible.
She performed at Sesame Place theme park on May 12 and 13, 2007, twice daily, appearing in the Rock Around the Block Parade, and again on June 7, 2008.
She appeared at the 32nd Annual Daytime Emmy Awards, which also included a performance by Caroll Spinney as Oscar the Grouch.
Romano's stage credits include Beauty and the Beast and Avenue Q beginning in September 2008.
External links
Ad blocker interference detected!
Wikia is a free-to-use site that makes money from advertising. We have a modified experience for viewers using ad blockers

Wikia is not accessible if you've made further modifications. Remove the custom ad blocker rule(s) and the page will load as expected.