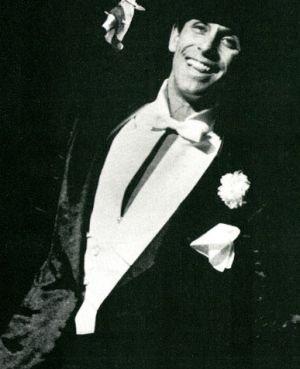 Christopher Chadman (1948-1995) was a Broadway dancer and choreographer who choreographed A Special Sesame Street Christmas and went on to choreograph The Muppets Take Manhattan.
Chadman made his Broadway debut in 1968, as an ensemble dancer in Darling of the Day (with Vincent Price). More chorus dance parts followed, and then in 1972, he was cast by noted choreographer/director Bob Fosse in Pippin. Chadman originated the role of Lewis (opposite Ben Vereen) and reprised it for a 1981 television version. He worked with Fosse again in Chicago (originating Fred Casely), played Rosencrantz in the short-lived rock musical Rockabye Hamlet, and starred in the 1976 revival of Pal Joey.
Chadman reteamed with Fosse for the 1978 revue Dancin', where in addition to principal dance parts, he served as dance captain, assistant to Fosse, and choreographed the finale, "Yankee Doodle Disco." He went on to choreograph the 1983 musical Merlin (with Doug Henning and Nathan Lane), stage and choreograph shows for the Rockettes, and was Fosse's associate choreographer on Big Deal (1986). Chadman staged concerts for singer Michael Feinstein and touring shows before choreographing the 1992 revival of Guys and Dolls, earning a Tony Awards nomination. In film, he appeared in the 1984 movie The Flamingo Kid as a dance instructor and choreographed Scenes from a Mall (with Woody Allen). His final Broadway show was The Sisters Rosensweig (with Madeline Kahn).
External links
Ad blocker interference detected!
Wikia is a free-to-use site that makes money from advertising. We have a modified experience for viewers using ad blockers

Wikia is not accessible if you've made further modifications. Remove the custom ad blocker rule(s) and the page will load as expected.