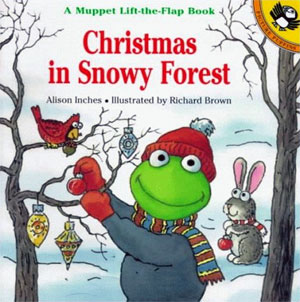 Christmas in Snowy Forest is a Muppet lift-the-flap storybook featuring Robin the Frog. Robin is the only Muppet Show character featured, as it focuses instead on his various forest friends.
Robin is going to a Christmas Eve party at the house of his friend Bear (no relation). He's forgotten where Bear lives, and looks in different animal burrows, collecting other friends along the way.
The copyright page includes dedications by the authors. Illustrator Richard Brown's dedication is "In memory of Jim Henson."