Christmas in Rockefeller Center
Talk

6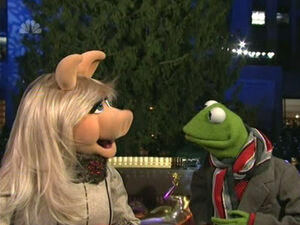 thumb|300px|right|2009 appearance.
Christmas in Rockefeller Center is an annual television event on NBC broadcast live from Rockefeller Center in New York City in which various celebrities welcome the Christmas season by performing holiday songs, culminating in the lighting of the famous Rockefeller Center Christmas tree.
2008 Appearance
Kermit the Frog and Miss Piggy appeared in the 2008 celebration on December 3 to introduce Harry Connick, Jr.
Jane Krakowski and Al Roker hosted, while other guests included Miley Cyrus, Faith Hill, Tony Bennett, Rosie O'Donnell, the Jonas Brothers, and Stephen Colbert.
2009 Appearance
The Muppets appeared in the 2009 special on December 2. Gonzo, Rizzo, Fozzie, Kermit, Miss Piggy, and Pepe performed "It's the Most Wonderful Time of the Year."
Jane Krakowski and Zachary Levi hosted, while other guests included Michael Bloomberg, Alicia Keys, The Roots, Rod Stewart and Brian Williams.
Before the special, select local channels aired a pre-show that featured The Electric Mayhem, consisting of Dr. Teeth, Floyd, Janice, Zoot, Animal and Lips, performing "Run, Run Rudolph."
2012 Appearance
The Muppets and Cee Lo Green sang "All I Need is Love" in the 2012 special on November 28. Kermit, Miss Piggy, Gonzo, Fozzie, Pepe, Animal and the Snowths appeared.
Al Roker and Savannah Guthrie from The Today Show hosted. Other guests included Tony Bennett, Rod Stewart, and Billy Crystal.
External links