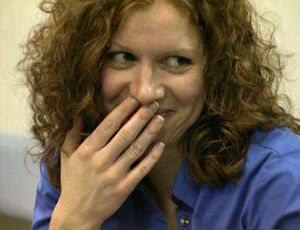 Christine M. Ferraro has been a writer for Sesame Street since 1994.[1] She has also written lyrics for several Sesame Street songs.
Ferraro has been the only writer of Sesame Street's Twitter account since it launched in November 2009.[1]
She has appeared on-screen in a cameo for Elmo's Musical Adventures: Peter and the Wolf, and in A&E Biography: Sesame Street.
Before becoming a writer, she was a production assistant and special thanker for Sing Yourself Silly!
Writer
References
↑ 1.0 1.1 "Cookie Monster storms Twitter as @sesamestreet gains a following", Los Angeles Times blogs, April 9, 2010.