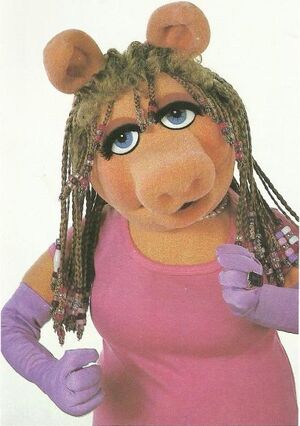 Christine Cooper (ca. 1949-2008[1]) worked with the New York Muppet Workshop. By 1980, was the official hairstylist to Miss Piggy. She received screen credit for the task in The Great Muppet Caper and The Muppets Take Manhattan. She was also credited with the Muppet designers on the special The Muppets Go Hollywood.
One of Cooper's creations was Miss Piggy's Bo Derek-inspired braid, created with Calista Hendrickson, originally for a proposed Harper's Bzarrae spread. Cooper described it to People magazine: "It's got a soft, fluffy fringe to be more feminine and to show off her exquisite ears."[2] The look also surfaced in Miss Piggy's Guide to Life. She was also responsible for Piggy's many and varied styles in The Miss Piggy Calendar 1982, mimicking the locks of famous screen actresses and characters.
Sources
Ad blocker interference detected!
Wikia is a free-to-use site that makes money from advertising. We have a modified experience for viewers using ad blockers

Wikia is not accessible if you've made further modifications. Remove the custom ad blocker rule(s) and the page will load as expected.