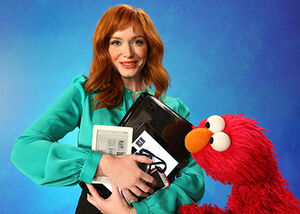 Christina Hendricks (b. 1975) is an American actress, best known for her role as Joan Holloway on Mad Men. Her credits also include roles on Firefly, ER, and the film Drive.
Hendricks appears during season 45 of Sesame Street, demonstrating the word "technology" with Elmo in a Word of the Day segment.
Ad blocker interference detected!
Wikia is a free-to-use site that makes money from advertising. We have a modified experience for viewers using ad blockers

Wikia is not accessible if you've made further modifications. Remove the custom ad blocker rule(s) and the page will load as expected.