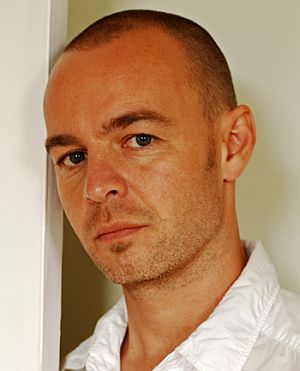 Christian Stark (b. 1968) is a German voice actor who played Artie Springer in the German dub of Dog City. Stark is the son of Horst Stark, who years prior had dubbed Lefty on Sesamstrasse. (Both shows were dubbed in the same recording studio, Studio Hamburg).
Stark's other credits include dubbing Ryan Gosling as Young Hercules, David Charvet on Baywatch, Justin Whalin as Jimmy Olsen on Lois & Clark: The New Adventures of Superman, and Jeff Corwin on his Animal Planet series. In animation, he has dubbed Dick Grayson/Robin on Batman: The Animated Series, Terry McGinnis on Batman Beyond, Peewit on The Smurfs, and Kankuro on Naruto. Equally busy in audio book dramas (or "hörspiele"), his roles range from heroic young Jim Hawkins in Treasure Island to the villainous Frollo in The Hunchback of Notre Dame.
External links
Ad blocker interference detected!
Wikia is a free-to-use site that makes money from advertising. We have a modified experience for viewers using ad blockers

Wikia is not accessible if you've made further modifications. Remove the custom ad blocker rule(s) and the page will load as expected.