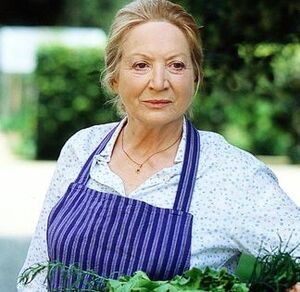 Christa Berndl (1932-2017) was a German actress who dubbed Susan (Susanne) on the German co-production Sesamstrasse, before the show began using its own street scenes. She reprised the role on records, including Sesamstrasse, Folge 1 and Sesamstrasse Buch und Schallplatte.
Berndl began her career as a child actress on stage and in film. As an adult, she continued to perform on stage, including working with Ingmar Bergman in a 1985 Ibsen production. She dubbed the German voices of Angela Lansbury in Bedknobs and Broomsticks, Lauren Bacall in The Big Sleep, Vanessa Redgrave in Camelot, and Julie Harris and other guests on Columbo. Her TV credits include episodes of the crime series Tatort, Derrick and Der Alte.
External links
Ad blocker interference detected!
Wikia is a free-to-use site that makes money from advertising. We have a modified experience for viewers using ad blockers

Wikia is not accessible if you've made further modifications. Remove the custom ad blocker rule(s) and the page will load as expected.