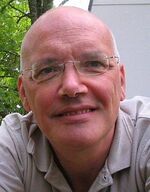 Chris Winsemius is a Dutch writer who has written for Sesamstraat, the Dutch co- production of Sesame Street.
In addition to writing songs and skits, Winsemius has authored Sesamstraat books and wrote the script for the Sesamstraat audiotour in Het Rijksmuseum, as well as the screenplay and score for Sesamstraat en Melkweg
Books
Song
External links
Ad blocker interference detected!
Wikia is a free-to-use site that makes money from advertising. We have a modified experience for viewers using ad blockers

Wikia is not accessible if you've made further modifications. Remove the custom ad blocker rule(s) and the page will load as expected.