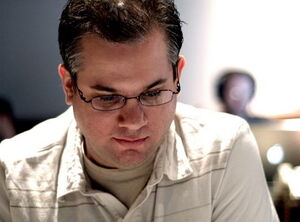 Chris Tilton is a composer and orchestrator who works primarily on music for video games. Tilton wrote the score for the 2003 Playstation 2/GameCube title Muppets Party Cruise.
He is also a frequent assistant composer and orchestrator for Michael Giacchino, including additional orchestration for The Muppets' Wizard of Oz.
Tilton's other credits include the video games Alias and Pixar's The Incredibles.
External links
Ad blocker interference detected!
Wikia is a free-to-use site that makes money from advertising. We have a modified experience for viewers using ad blockers

Wikia is not accessible if you've made further modifications. Remove the custom ad blocker rule(s) and the page will load as expected.