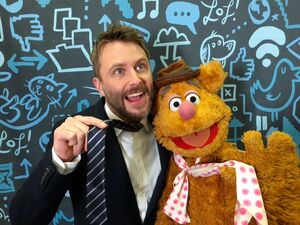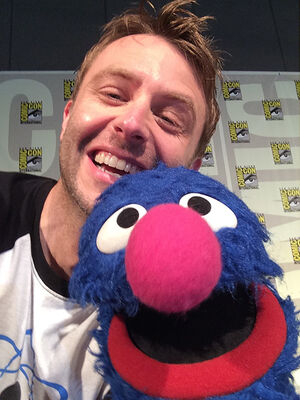 Chris Hardwick (b. 1971) is an American stand-up comedian, actor, writer, musician, podcaster, television personality, and voice artist. He is best known for performing with Mike Phirman (as comedy-music duo Hard 'n Phirm); hosting Singled Out, Wired Science, Web Soup, Talking Dead, @midnight, and The Nerdist Podcast; and providing the voice of Otis in Back at the Barnyard.
Hardwick interviewed the Muppets as part of The Nerdist Podcast. He also appeared in the Ben Folds Five music video for "Do It Anyway" featuring the characters of Fraggle Rock and interviewed Red Fraggle on The Nerdist Podcast. He also appeared in the Hard 'n Phirm music video for "Gersberms (Yer Gervin Mah)" featuring The Swedish Chef.
In 2014, Hardwick moderated a panel at San Diego Comic-Con with the cast and Muppets from Sesame Street.
In 2016, Fozzie Bear appeared as a contestant on @midnight.
External links