Chris Cooper
Talk

0
26,848pages on
this wiki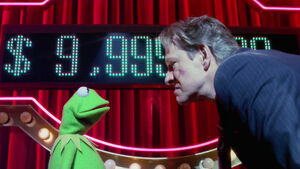 Chris Cooper (b. 1951) is an Academy Award-winning actor who voiced Douglas in the 2009 Creature Shop movie Where the Wild Things Are. He appears in The Muppets as Tex Richman.
For the film, Cooper was taught to rap by music supervisor Bret McKenzie. McKenzie considered teaching Cooper to rap as a highlight of the film experience. For an interview with the Los Angeles Times McKenzie said of the experience, "It was awesome. The first session, where I was secretly working out whether he had rhythm, we did a session on Skype, freestyling. It was like a very primitive Furious Five. I'd rap a line and he'd rap back. He's such a serious guy, and I'm a pretty unserious guy, so it was a funny combination. Luckily, he used to be in a lounge band. Completely musical; got great flow. We'd go in the studio and he was almost Method, the way he rapped. I think he was reading books on how to rap. I don't know where you get those from, but he was serious.[1]
Other credits include American Beauty, The Horse Whisperer, and Seabiscuit. Television guest appearances on the television series Law & Order and Miami Vice.
Sources
External links