Ad blocker interference detected!
Wikia is a free-to-use site that makes money from advertising. We have a modified experience for viewers using ad blockers

Wikia is not accessible if you've made further modifications. Remove the custom ad blocker rule(s) and the page will load as expected.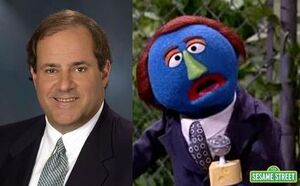 Chris Berman (b. 1955) is an American sportscaster. Over the course of his career, Berman has anchored ESPN's SportsCenter (and others during his 30 year tenure with the network), ABC's Monday Night Football and numerous other sporting events.
Berman provided the voice for a caricature of himself in episode 4090 of Sesame Street, where he announced for the event "Chasing the Cheese."
A broadcaster and not an actor, Berman has made occasional appearances in films, including Adam Sandler's The Longest Yard and The Waterboy, Eddie (with Whoopi Goldberg) and Necessary Roughness (with Kathy Ireland and Rob Schneider).
Berman also appeared in the Hootie & the Blowfish music video for "Only Wanna Be with You," and voices a sports announcer for the EPCOT Center attraction Ellen's Energy Adventure (with Ellen DeGeneres, Willard Scott, Bill Nye and Alex Trebek)
External links