Ad blocker interference detected!
Wikia is a free-to-use site that makes money from advertising. We have a modified experience for viewers using ad blockers

Wikia is not accessible if you've made further modifications. Remove the custom ad blocker rule(s) and the page will load as expected.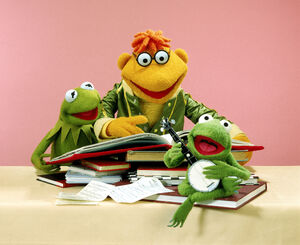 Children's Songs and Stories (with the Muppets) was released by Playhouse Video in 1985, as part of a series of compilations featuring songs and sketches from The Muppet Show.
In this one hour compilation, Scooter presents his scrapbook of songs and scenes from The Muppet Show for children. He tries to introduce his "personal favorite" song, but is continually interrupted by various characters (all performed by Jim Henson).
Muppet Show guest star appearances include Brooke Shields, Twiggy, John Denver, Julie Andrews, Judy Collins and Charles Aznavour.
Releases
Picture
Segment
Description
Source

Intro

After a brief instrumental music box version of "The Muppet Show Theme," Scooter introduces the first song:
Original material

Song

"Octopus' Garden"
Episode 312: James Coco

Insert

Scooter and Kermit joke.
Original material

Song

"The Lonely Goatherd" with Julie Andrews, plus Statler and Waldorf's balcony scene.
Episode 217: Julie Andrews

Song

"I'm Five"
The ending is partially edited. The video of Robin introducing "They Call the Wind Maria" is removed while the audio replaces the audio of Robin's brief rendition of the song.
Episode 212: Bernadette Peters

Insert

Scooter introduces the next clip:
Original material

Song

"Grandma's Feather Bed" with John Denver
Episode 401: John Denver

Insert

Scooter introduces the next clip:
Original material

Song

"Tuxedo Junction"
Episode 319: Elke Sommer

Insert

Scooter introduces the next clip:
Original material

Sketch

"The King's Breakfast" with Twiggy
Episode 121: Twiggy

Insert

Rowlf's got a song for Scooter:
Original material

Song

"You and I and George," plus Statler and Waldorf's balcony scene.
Episode 101: Juliet Prowse

Song

"Two Lost Souls"
Episode 223: John Cleese

Insert

Scooter tries to introduce his favorite clip, as Kermit interrupts and suggests the following:
Original material

Episode fragments

Alice in Wonderland with Brooke Shields:
Episode 506: Brooke Shields

Insert

Scooter and Kermit introduce the next couple of clips:
Original material

Episode fragments

Alice in Wonderland with Brooke Shields:

Dr. Bunsen Honeydew shrinks Brooke Shields
The Courtroom Scene
Backstage Kermit learns that Brooke Shields is her normal size again
The Mad Tea Party / "We're Off to See the Wizard"

Episode 506: Brooke Shields

Insert

Scooter tries to introduce his favorite clip yet again, as Rowlf interrupts and requests the following:
Original material

Song

"Over the Rainbow"
Episode 307: Alice Cooper

Song

"Sea Chantey"
Episode 220: Petula Clark

Insert

Scooter yet again tries to introduce his favorite clip, as two fish ask him to "be a friend" and play the following:
Original material

Song

"Friendship"
Episode 519: Chris Langham

Insert

As Scooter tries once more to introduce his favorite clip, the Swedish Chef is quite thankful to be granted request his wish to watch the following:
Original material

Song

"I Know an Old Lady" with Judy Collins, including Statler and Waldorf's balcony sequences.
Episode 205: Judy Collins

Song

"I'm a Gnu"
Episode 519: Chris Langham

Sketch

Muppet Sports: Horseshoe Pitching
Episode 322: Roy Rogers & Dale Evans

Song

"A Four-Legged Friend"
Episode 322: Roy Rogers & Dale Evans

Insert

Scooter tries to introduce his favorite clip one last time, as Waldorf interrupts and asks for his following favorite:
Original material

Song

"The Inch Worm" with Charles Aznavour
Episode 109: Charles Aznavour

Song

"I'm My Own Grandpaw"
Episode 113: Bruce Forsyth

Insert

Kermit suggests to play Scooter's favorite, and so he does:
Original material

Song

"Six String Orchestra"
Episode 417: Star Wars

Insert

As Kermit takes off, Scooter remembers a great song that they forgot:
Original material

Song

"Halfway Down the Stairs"
Episode 110: Harvey Korman

End Credits

The full instrumental music box version of "The Muppet Show Theme" plays as the end credits roll, and Scooter closes the book.
Original material

Logo

Muppet Home Video logo