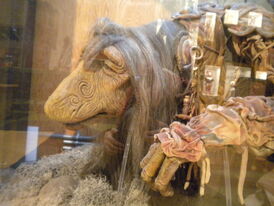 Children's Museum of Pittsburgh is a hands-on children's museum located in Pennsylvania, most notable for a permanent exhibit of props and puppets from Mister Rogers' Neighborhood.
The permanent Attic exhibit, home to the rest of the museum's collection of puppets, features The Dark Crystal character urSol the Chanter as one of the displays. The Museum also hosted the traveling "The Vision of Jim Henson" exhibit in 2000.
Ad blocker interference detected!
Wikia is a free-to-use site that makes money from advertising. We have a modified experience for viewers using ad blockers

Wikia is not accessible if you've made further modifications. Remove the custom ad blocker rule(s) and the page will load as expected.