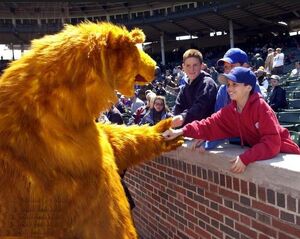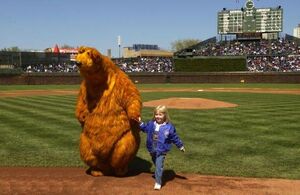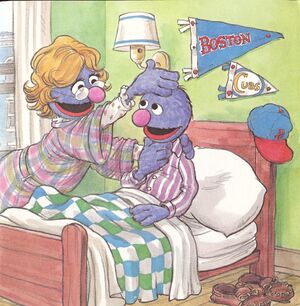 The Chicago Cubs are an American professional baseball team based in Chicago, Illinois. Members of Major League Baseball's National League, the team was named officially in 1902, after being known as the Colts, Orphans, and White Stockings. One of the two remaining charter members of the National League, the team plays at Wrigley Field and its fans are known as Cubbies.
On April 26, 2002, Bear from Bear in the Big Blue House appeared at game against the Los Angeles Dodgers at Wrigley Field. His appearance was to promote the children's charity "Voices for Illinois Children," and to highlight Child Abuse Prevention Month.
References
Player Gallery
External links
Ad blocker interference detected!
Wikia is a free-to-use site that makes money from advertising. We have a modified experience for viewers using ad blockers

Wikia is not accessible if you've made further modifications. Remove the custom ad blocker rule(s) and the page will load as expected.