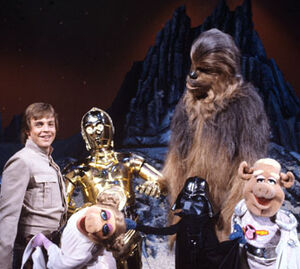 Chewbacca (played by Peter Mayhew) guest-starred on The Muppet Show episode 417 along with Luke Skywalker, Mark Hamill, C-3PO and R2-D2. The Wookiee is one of the most iconic figures from the Star Wars franchise, serving as Han Solo's faithful sidekick.
References
External links
Chewbacca on Wookieepedia, the Star Wars wiki.
Ad blocker interference detected!
Wikia is a free-to-use site that makes money from advertising. We have a modified experience for viewers using ad blockers

Wikia is not accessible if you've made further modifications. Remove the custom ad blocker rule(s) and the page will load as expected.