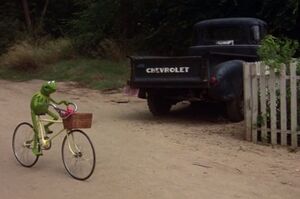 Chevrolet is an American automobile maker and brand, with vehicles often referred to as Chevy.
Chevrolet vehicles have at various times been used in Muppet productions. In The Muppet Movie, Kermit rides his bicycle past an old Chevrolet truck. Later, multiple Chevrolet cars appear on Mad Man Mooney's car lot.
In The Great Muppet Caper, several Chevrolet models appear as background cars during "Hey a Movie!," including the cab driven by Richard Hunt.[1] They also pop up in the background of The Muppets Take Manhattan and Muppets from Space.
For the 2015 TV series The Muppets, Chevrolet received credit on most episodes for promotional consideration, which meant supplying cars that were used (including the Chevrolet Corvair driven by Fozzie in the premiere).[2]
References
Sources
↑ Internet Movies Cars Database - The Great Muppet Caper.
↑ Internet Movie Cars Database - The Muppets (2015)
See also