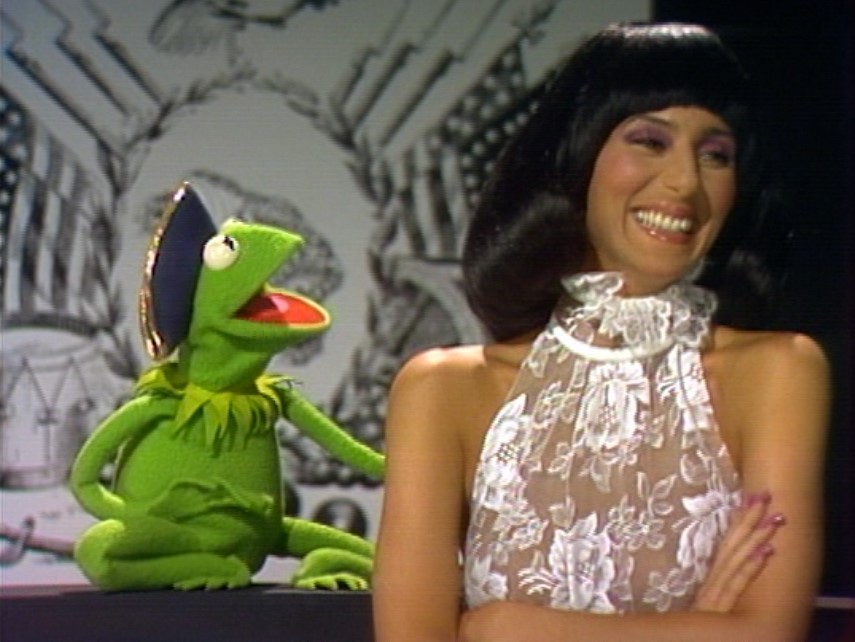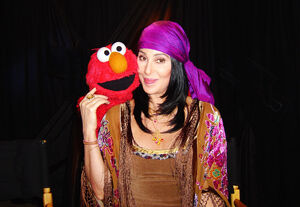 Cher (b. 1946) is a singer, actress, director, and was one half of the real-life couple and performance duo Sonny & Cher, who came to fame in the 1960s and 1970s.
She was host of the television variety series Cher on which the Muppets appeared in 1975.
Cher was announced as an upcoming guest star for The Muppet Show season four in The Muppet Show Fan Club Newsletter Volume Two, Number Two. However, she never appeared.
Cher also appeared with her daughter, Chastity Bono, in a segment taped for Sesame Street.[1] She later appeared in a "My Favorite Sesame Street Moments" segment.
In the Jim Henson Hour episode "Miss Piggy's Hollywood", Miss Piggy and Gonzo are visiting the home of a celebrity, but Gonzo is unsure of whose home they are outside of, and he thinks at one point they are at Cher's residence.
At their Hollywood Bowl concert, Miss Piggy and Kermit sing one of Sonny and Cher's biggest hits, "I Got You Babe", with Piggy wearing an outfit similar to Cher's outlandish gowns.
Sources
↑ St. Pierre, Stephanie, The Story of Jim Henson, page 60