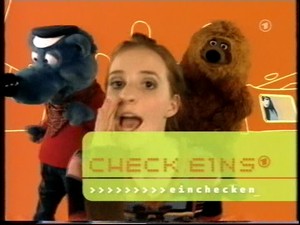 Check Eins is Germany's ARD network's children programming block which airs Sesamstrasse every Sunday. There have been produced various segments featuring the Sesamstrasse characters, from identification inserts that are edited into various versions to small sketches shown just before or after the regular broadcast of Sesamstrasse.
Picture
Description

Pferd and Wolle enter carrying some bags, to a background soundtrack of airport noises. They stop as a voice from a speaker is heard saying that they need to check in, and they hurry away. Shortly after, an episode of Sesamstrasse begins.

Pferd answers questions about himself. He is asked about his favorite celebrity, hobbies, favorite experience, favorite animal, most embarrassing moment and his dream job.

Finchen, who is standing next to the echo Hugo Hall, asks the viewers whether they have seen an echo. After Hugo Hall's echoing this, she continues by saying things like this only happens on Sesamstrasse. Finchen laughs as the echo repeats Sesamstrasse.

Ralph Caspers introduces Pferd who talks about what the world might need to improve.
Pferd thinks the world could need a machine that creates pictures of your friends. He then pauses as he remembers that such a invention has already been created and it's called a camera. He then concludes that the world has everything it needs. He remarks that he is hungry and thinks it would be nice to have a machine that brings you carrots whenever you are hungry, and says goodbye to the audience.

Bert lays down the beat for Ernie's winter sports rap. The first airing coincided with the beginning of the 2010 Winter Olympics, broadcast by the same network. (YouTube)
Identification
There are various cuts of the Check Eins identification interstitials, varying in length. Below are images of some of the appearances that the Sesamstrasse characters have made, not including stock clips from the show, embedded in the background graphic.