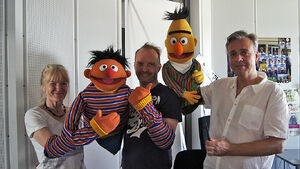 Karin "Charlie" Kaiser is a trained German puppet builder, writer, as well as a puppeteer who has performed on Sesamstrasse since 1993. Two years prior, she met Kermit Love and Marita Stolze, who connected her to the Studio Hamburg puppet productions Hallo Spencer and shortly after, Sesamstrasse.
On Sesamstrasse, she has played both of Tiffy's hands alongside Marita Stolze (1993-2000) and Sabine Falkenberg (2001-2005), and was the first of Feli Filu's three performers (2000-2003). She also played side characters, such as Frida, and others on the show.
Since the introduction of new characters and old favorites on Sesamstrasse, Kaiser assists Carsten Morar-Haffke by playing Pferd's hoofs, and playing Ernie's right hand alongside Martin Paas. She further plays Elmo's hands alongside Martin Reinl, when needed.
On the Sesamstrasse spin-off Eine Möhre für Zwei, Kaiser has taken on further side characters such as a pig, and an upset chicken, eager to try on a bra at a department store; a memorable scene that was incorporated into the show's opening theme.
External links
Ad blocker interference detected!
Wikia is a free-to-use site that makes money from advertising. We have a modified experience for viewers using ad blockers

Wikia is not accessible if you've made further modifications. Remove the custom ad blocker rule(s) and the page will load as expected.