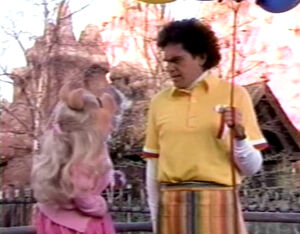 Charles Fleischer (b. 1950) is an American actor and voice over artist, best known for his role of Roger Rabbit in the 1988 film Who Framed Roger Rabbit. His other works include roles in A Nightmare on Elm Street, Back to the Future II and Hill Street Blues.
Fleischer appeared in Disneyland's 35th Anniversary Celebration as assorted park employees, such as "Coconut Charlie" of the Jungle Cruise Ride. He appeared as a separate park employee in the "Pigerella" segment, interacting with Miss Piggy and getting her hired in the park (scrubbing the floors of Cinderella's castle).
Ad blocker interference detected!
Wikia is a free-to-use site that makes money from advertising. We have a modified experience for viewers using ad blockers

Wikia is not accessible if you've made further modifications. Remove the custom ad blocker rule(s) and the page will load as expected.