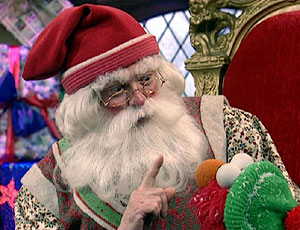 Charles Edward Hall is a stage actor who has played Santa Claus and Ebenezer Scrooge in Radio City Music Hall's Magnificent Christmas Spectacular since 1986.
He was also known for playing the Witch and the Magic Mirror in Snow White Live! and the announcer in Barney Live! in New York City.
He reprised the role of Santa Claus in Elmo's World: Happy Holidays.
Ad blocker interference detected!
Wikia is a free-to-use site that makes money from advertising. We have a modified experience for viewers using ad blockers

Wikia is not accessible if you've made further modifications. Remove the custom ad blocker rule(s) and the page will load as expected.