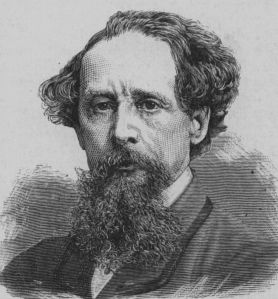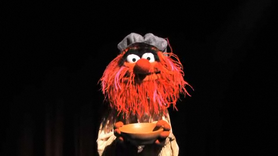 Charles Dickens (1812-1870) was a Victorian novelist who penned such works as Great Expectations, Pickwick Papers, and Oliver Twist. Perhaps his best-known work is A Christmas Carol, used as the basis for The Muppet Christmas Carol and for portions of A Sesame Street Christmas Carol.
References
In an Ernie and Bert sketch featuring Bert vocally copying Ernie's drumming, Bert is reading A Tale of Two Breakfasts at the beginning and end of the sketch. This is a reference to Dickens' novel A Tale of Two Cities, which opens with the famous line, "It was the best of times, it was the worst of times." Similarly, Bert's book replaces "times" with "oatmeals."
At the beginning of the "One and One Make Two" sketch, Bert is reading: "It was the best of pigeons, it was the worst of pigeons..." This was kept when the script was reworked into the song "Adding, Adding, Adding".
When the lights go out in The Jim Henson Hour episode "Musicians", Vicki uses the cover of darkness to recite some theatre by paraphrasing the final line from A Tale of Two Cities: "'Tis a far, far better thing than I have ever done be..."