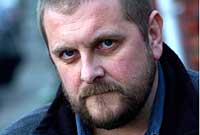 Charles Dale (b. 1963), sometimes credited as Charlie Dale, is a Welsh actor who voiced Moses and Pincher in Animal Farm.
Dale has had recurring roles on the soap operas Coronation Street (as Dennis Stringer, 2000 to 2002) and Belonging (as Steve Lewis, 2001-2006). He's currently a regular on Rocket Man, as Barney Scott.
External links
Ad blocker interference detected!
Wikia is a free-to-use site that makes money from advertising. We have a modified experience for viewers using ad blockers

Wikia is not accessible if you've made further modifications. Remove the custom ad blocker rule(s) and the page will load as expected.