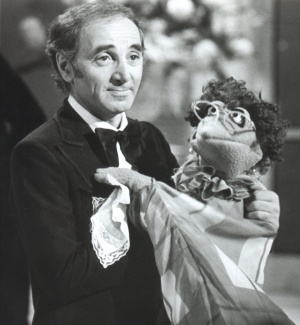 Charles Aznavour (b. 1924) is a French singer, songwriter and actor. He was the guest star on The Muppet Show episode 109.
He was born in Paris, France to Armenian parents, who introduced him to the theatre at an early age. He sings and records in 6 languages. His recording of "She" was a #1 hit in the UK during 1974.
He has written or co-written many songs, including:
External links
Ad blocker interference detected!
Wikia is a free-to-use site that makes money from advertising. We have a modified experience for viewers using ad blockers

Wikia is not accessible if you've made further modifications. Remove the custom ad blocker rule(s) and the page will load as expected.