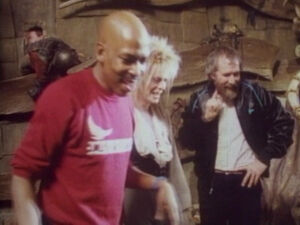 Charles Augins is an actor and choreographer who provided the voice of Fiery 2 in Labyrinth, and also choreographed the "Magic Dance" and "Chilly Down" sequences. Augins also appeared in the films The Revenge of the Pink Panther and The Tall Man, and choreographed episodes of the sci-fi sitcom Red Dwarf (and guest starred as Queeg).
External links
Ad blocker interference detected!
Wikia is a free-to-use site that makes money from advertising. We have a modified experience for viewers using ad blockers

Wikia is not accessible if you've made further modifications. Remove the custom ad blocker rule(s) and the page will load as expected.