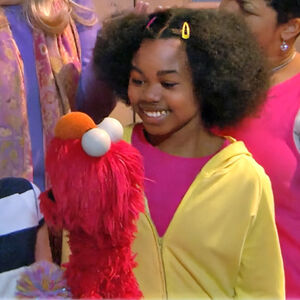 Chantylla "Chauncey" Johnson is a singer who voiced an Anything Muppet girl later named Segi on Sesame Street. She sang "I Love My Hair" and "Change the World." Johnson also makes an on-camera appearance in a 2010 episode as one of the singing kids playing basketball.
Johnson has been on Broadway in The Color Purple (2006), produced by Oprah Winfrey, and the ensemble of A Christmas Story (2008). She played Nala in three productions of The Lion King, including an Asian tour. After Broadway, her family moved to Charlotte, North Carolina. She appeared in the film Notorious, about The Notorious B.I.G..
External links
Ad blocker interference detected!
Wikia is a free-to-use site that makes money from advertising. We have a modified experience for viewers using ad blockers

Wikia is not accessible if you've made further modifications. Remove the custom ad blocker rule(s) and the page will load as expected.