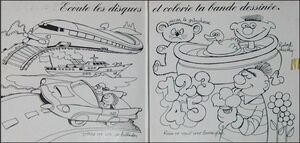 Chansons de 1, Rue Sésame: Ouvre Toi Rue Sésame (The Songs from Sesame Street: Open Sesame Street) was the very first album of Sesame Street songs translated into French, although it was released on a set of two extended play 45 RPM records, instead of one 12" LP. It was produced at the time that Bonjour Sesame, a dubbed version of Sesame Street, was broadcast in France.
Record One
Side One
Ouvre-Toi Rue Sésame (Sesame Street Theme) - The Entire Cast
Viens On Va Se Balader (Goin' for a Ride) - Anything People
Side Two
Les Gens Qui Vivent Auprès De Vous (The People in Your Neighborhood) - Bob and The Anything People
Oscar Le Grincheux (The Grouch Song) - Oscar the Grouch
Record Two
Side One
Comment s'appelle cette chanson? (What's the Name of That Song?) - The Entire Cast
Robert Ducky (Rubber Duckie) - Ernie
Side Two
Cinq personnes dans ma famille (Five People in My Family) - Anything People
Rien ne vaut une bonne glace (Everyone Likes Ice Cream) - Three Friends and Monster
See also
Ad blocker interference detected!
Wikia is a free-to-use site that makes money from advertising. We have a modified experience for viewers using ad blockers

Wikia is not accessible if you've made further modifications. Remove the custom ad blocker rule(s) and the page will load as expected.