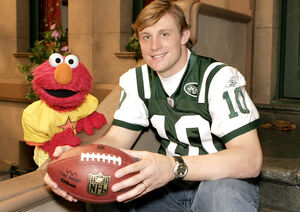 Chad Pennington (b. 1976) is a former NFL football quarterback. He was first drafted by the New York Jets in the first round, as the eighteenth overall pick in the 2000 NFL Draft, and later played for the Miami Dolphins until 2010.
When Pennington was still with the New York Jets, he appeared on episode 4145 of Sesame Street, where he demonstrated what it means to be prepared.
Ad blocker interference detected!
Wikia is a free-to-use site that makes money from advertising. We have a modified experience for viewers using ad blockers

Wikia is not accessible if you've made further modifications. Remove the custom ad blocker rule(s) and the page will load as expected.