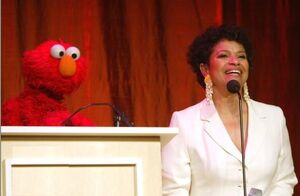 The Celebration of Diversity Awards began in 2002 by the Producers Guild to "Celebrate and promote diversity in film, television and new media productions by creating awareness and stimulating discussion of significant social issues." It honors both the filmmakers and their work. Past honorees include Plácido Domingo, ER, and Morgan Freeman.
Sesame Street was honored with the award in 2003, where Elmo was on hand with Debbie Allen on October 1, 2003.
Ad blocker interference detected!
Wikia is a free-to-use site that makes money from advertising. We have a modified experience for viewers using ad blockers

Wikia is not accessible if you've made further modifications. Remove the custom ad blocker rule(s) and the page will load as expected.