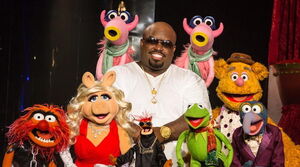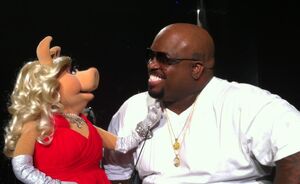 Cee Lo Green (b. 1974, real name Thomas Calloway) is a singer, songwriter, record producer and actor. He is a member of the group Gnarls Barkley and is currently a judge on the NBC game show, The Voice.
The Muppets are featured on his Christmas album, Cee Lo's Magic Moment, performing the original song "All I Need is Love" with Green. They appeared with Green at his Las Vegas show promoting the album on October 10, 2012, and a music video for the song will follow.
In November 2012, The Muppets appeared with Green on The Voice; during the appearance Green and Kermit performed "Bein Green."
His song, "Fuck You!" (co-written by Bruno Mars), was performed by Camilla and the chickens in The Muppets.
An Anything Muppet caricature of Green appeared in Sesame Street's parody of The Voice in a season 43 episode.