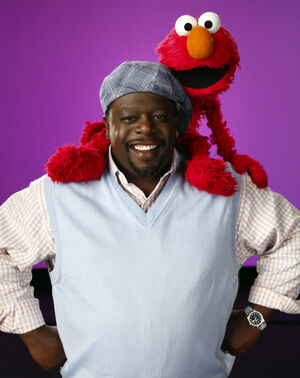 Cedric the Entertainer (born Cedric Antonio Kyles, 1964) is an American actor and comedian, best known for his roles in the Barbershop and Madagascar films, as well as as one of the four Original Kings of Comedy.
Cedric appeared in the 40th season of Sesame Street, explaining the word "canteen" in Episode 4202. He also appeared in the Shalom Sesame episode, "Shabbat Shalom, Grover!"
Additional film credits include The Honeymooners and the Dr. Dolittle sequel, as well as an appearance on the television series MADtv.
External links
Ad blocker interference detected!
Wikia is a free-to-use site that makes money from advertising. We have a modified experience for viewers using ad blockers

Wikia is not accessible if you've made further modifications. Remove the custom ad blocker rule(s) and the page will load as expected.