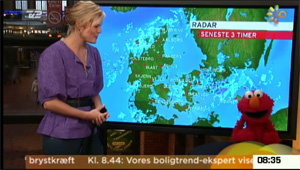 Cecilie Hother (b. 1978) was one of the weather forecasters on TV2 from 2008 to 2012, sometimes she would be seen on Go'morgen Danmark with the weather. On October 19, 2009, she had Elmo give her a hand with the weather forecast.
In 2010 she won Vild med dans, the Danish adaptation of Dancing with the Stars.
Ad blocker interference detected!
Wikia is a free-to-use site that makes money from advertising. We have a modified experience for viewers using ad blockers

Wikia is not accessible if you've made further modifications. Remove the custom ad blocker rule(s) and the page will load as expected.