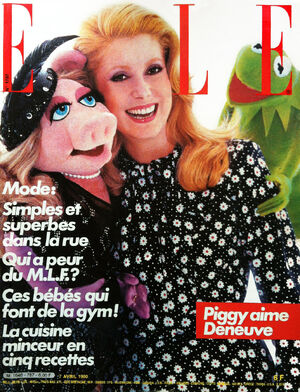 Catherine Deneuve (b. 1943) is a Paris-born French actress, model, and fashion designer.
On April 7, 1980 she appeared together with Miss Piggy and Kermit the Frog on the French cover of ELLE magazine.
Deneuve was further preceded by Mireille Mathieu as the national Marianne.
External links
Ad blocker interference detected!
Wikia is a free-to-use site that makes money from advertising. We have a modified experience for viewers using ad blockers

Wikia is not accessible if you've made further modifications. Remove the custom ad blocker rule(s) and the page will load as expected.