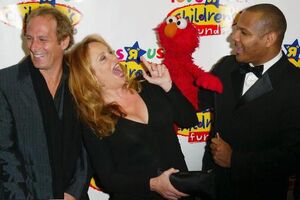 Catherine Bach (b. 1955) is an American actress best known for playing Daisy Duke in the television series The Dukes of Hazzard.
She appeared with Elmo at the Toys R' Us Children's Fund 18th Annual Benefit Dinner on April 9, 2003.
Aside from Daisy Duke, Bach's credits include guest spots on The Love Boat, and appearances as herself in specials such as Night of 100 Stars and celebrity editions of Family Feud.
External links
Ad blocker interference detected!
Wikia is a free-to-use site that makes money from advertising. We have a modified experience for viewers using ad blockers

Wikia is not accessible if you've made further modifications. Remove the custom ad blocker rule(s) and the page will load as expected.