Talk:Sesame Street Guest Stars
ATTENTION
TALK PAGES ARE NO LONGER USED
To discuss article changes, please use:

If you see comments on this page, they remain for archive purposes.
Sesame Workshop list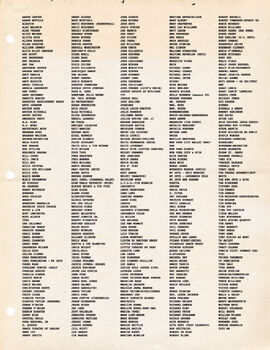 Here's a response I got from someone at Sesame Workshop. I'm still working on getting images and more details. Sorry in advance for the long post:
Kathleen Battle — Season 22, appeared with Grundgetta and Placido Flamingo
Tim Scanlin (I think it's actually spelled Scanlon) was a member of National Theatre of the Deaf. He appears in a segment with David, Linda and Luis from Season 5 about Over/Under.
Lance Armstrong, Andy Roddick, Tisha Waller, Toby Stevenson, Tim Howard, and Amy Acuff appeared in a Home Video in 2005. I don't have the name of the video - but all were part of an athlete montage. They never appeared on the show.
Lucky Peterson — Season 5, sang a song "One, Two, Three." He was a kid when he appeared on the show.
Mark Linn-Baker — Season 28. He plays a veterinarian and appears in two segments with Barkley, Big Bird, Linda and Maria.
Midori Goto — Season 24. Appeared in segment with Prairie Dawn and Telly.
Norberto Kerner — appeared once in Season 9 and in several episodes during Season 14.
Phil Simms — quarterback for the New York Giants when the team appeared in the Sesame Street Special and in Season 19.
Rob Gottfried — Season 11, Slow/Fast Drumming (limbo segment)
Roger Caras — Season 15. He was an animal handler on ABC news. He brings a bloodhound on the show in a segment with Big Bird, Gordon and kids.
Roosevelt Grier — Season 6. Sang a song: "I Used to Be Little Kid," and another segment involving a phone booth.
Sinbad — Season 26: Appears in a segment with Maria and Big Bird.
Alan Houston — Season 36. Appeared in a live action segment called "Play Ball."
Andy Garcia — Season 24. Two segments: Big Bird Makes a Movie with Andy Garcia, and a segment with Elmo and Telly Monster.
Arthur Mitchell (Dance Theater of Harlem) — Season 26. He appears in a series of segments with Elmo, Ruth Buzzi and Zoe.
Debra Winger — Season 23 appears in segments with Big Bird and Birdketeers and a separate segment with the Count.
Ed Waterstreet — Season 18, several segments. Ed is married to Linda Bove.
Enrique Iglesias — Season 31 sang a song "Amigo" with Elmo, Lulu, Maurice and Telly.
Gary Carter — Season 18, appears in a closing segment with Keith Hernandez and Mookie Wilson.
Geri Jewell — Season 16, talks about cerebral palsy with Big Bird, plays computer games with David, tells a story with Barkley and Telly Monster, and talks about careers with big bird and kids
Holly Near — Season 12, songs: "You've Got Me Flying," and "Water Comes Down"
Isiah Thomas — Season 23: appears in segment with Elmo and a kid.
Jackie Joyner-Kersee — Season 21 appears in monster on the spot segment with Telly and in a segment with the Two-headed Monster
Joe Silver — Season 14
Terri Garr — Season 17: several segment including Grouch Graduation, Throwing a Grouch Party, Sardines and Fudge Smudge. Trash Can Greeting, New School for Grouch Research, Season 25, Season 28 – Kerri's Birthday Party
Tim McCarver — Season 24 and 26.
Vinette Carroll — Season 3 appears with Big Bird and kids
Ruben Blades — Season 17: Ruben Blades meets Big Bird and Oscar
John McEuen was only in the Home Video: Kids' Favorite Country Songs
Bill Nye — Season 29: Seesaw Science (live action insert)
Kristi Yamaguchi — Season 25: appears with Elmo
Lassie — Season 23, 26, 28
Paula Poundstone — Season 24, appears with live dogs, Maria, Snuffy and Snuffy's Mom
Tom Hanks — Season 24: Waiting for the Bus with Big Bird and kids
Keith Lockhart — the conductor for the Boston Pops when Seasons Street recorded a concert with the Boston Pops in 2001.
Joan Rivers — Season 17
Joan Cusack — Season 31, appears with Elmo and daycare monsters
Met baseball player Mookie Wilson's first name is William - hence the listing of William Wilson.
Robie McGrath — Season 8, plays bluegrass music with Bob, Luis and kids on stoop
Double Dutch Jumpers — Season 11 and 15
Los Pleneros — Season 24
Soh Daiko — Season 25
New York Knicks — Season 2
Oh, and they also gave me a clearer version of the celebrity list, which I posted at the top of the page. — Joe (talk) 02:32, April 17, 2010 (UTC)
Okay, I added reference tags and categories for people we already have on the wiki: Bill Nye, Kristi Yamaguchi, Paula Poundstone, Tom Hanks, Joan Cusack. I'm leaving Joan Rivers alone for now as I suspect she's still being listed for her Shalom Sesame work. If that's not true, we can tag her when we know what she did on Sesame. I'm thinking we leave the remaining redlinks untouched for now until we have more information and/or some photos or screenhots from the episodes they appear in. They'd make for some pretty boring pages right now, unless folks think otherwise. —Scott (talk) 04:36, April 17, 2010 (UTC)
picture
I can't see the picture. Is it broken? -- Ken (talk) 05:41, April 17, 2010 (UTC)
It's a browser issue (though it may sort itself out, like other Wiki image issues). For some reason it shows up as an X in IE (regardless of caches), but it looks fine in Firefox. -- Andrew Leal (talk) 05:58, April 17, 2010 (UTC)
40 years book
The new 40 years book has a scan of a Sesame Workshop document with the caption "Some of the show's guests listed in the Workshop's database" as seen in the accompanying photo. In all, there are 475 names, but some of them are obscured. It's not a complete list either, as proven by what we have covered here on the wiki. But it does bring to light a bunch of people we don't have covered here yet.
We have these people on the wiki, but not for their Sesame connection
Groups
So, we probably don't know all the connections right away, but there are a couple we have information for on episode pages already; we just need to start a page for the person. Anyway, I'm just putting this up here for now for folks to take a look at and to help us with our research. —Scott (talk) 23:34, October 26, 2009 (UTC)
Not much help here, but sesamestreet.org incorrectly lists Phil Simms as being in "The People in Your Neighborhood", the version from Sesame Street, Special, and the "Celebrity Spots" page of the "first season show content", found at the CTW archives lists Don McLean as appearing in Episode 0114 (he's also listed among verious musical performers in "Sesame Street Unpaved). --Minor muppetz 00:29, October 27, 2009 (UTC)
I'll be creating a few pages in a bit, but some notes. There are some misspellings, and I think "P. Piper" might actually be a reference to the Pied Piper (it's an odd list, since it includes the likes of Wally and Ralph and Mrs. Goose). As for misspellings, David Scheiner is David Shiner; there's no such person as Mark McKuen so I'm assuming they meant weatherman Mark McEwen. We already have a page for Aaron Neville but the Neville brothers as a group appeared in some segments we have documented here, so I'll get to that later. Keith Hernandez and Mookie Wilson already have the connection noted on Baseball players, though we can consider giving them their own pages (Hernandez in particular has enough to flesh out a page). Chad Pennington was just in the last couple seasons (Season 38, to be precise) and his clip is in the Sesame online video section, so it will be easy to make that page. Maurice Hines was Gregory Hines' brother. There's a reference to a joint appearance by them on Mr. Snuffleupagus in the trivia section, but with no source or episode.
One that really intrigued me was Joe Silver. I knew the name right off but he wasn't a celebrity, though he had a long career as a deep-voiced actor/singer in New York, from commercial voices to early TV and Broadway. My hunch then was that he may have appeared in a character role not as a "Hey, it's so and so" thing. I remembered a rumor I'd seen on Muppet Central that there was an episode with Mr. Hooper's brother, and a claim that he was played by actor Jack Gilford. I love Gilford so I tried to confirm it but found no reference. So it occurred to me to wonder if it was Joe Silver, and I found a fan memory of it here, from 2006. Now that's not reliable evidence, but it's plausible, and Silver is on the list but Gilford isn't. I'm not sure where the whole "Mr. Hooper's brother" info first came from anyway, but maybe bits are in circulation? Or maybe a follow-up question to Louise Gikow or someone, now that we have something to either confirm or negate. There's also a rumor I've seen that Morgan Freeman appeared on Sesame in character as Easy Reader from The Electric Company (it's widely noted that Easy Reader was in fact inspired by Count von Count, the idea being to create a character who loved reading words, any words, in the same way that the Count loved counting, though obviously the character developed differently in specifics). Again no proof, but Freeman's presence in the list (and the absence of any of the other folks who were only in Out to Lunch, say) suggests its possibility and something to try to check on (in the archives, with knowledgeable folks, etc). -- Andrew Leal (talk) 06:39, October 28, 2009 (UTC)
I'm pretty sure that the trivia about Gregory and Maurice Hines dancing wirth Mr. Snuffleupagus was provided by Michael Earl, but I found that Maurice Hines also appeared with Gregory in Episode 1845. --Minor muppetz 13:18, October 28, 2009 (UTC)
Here's some more I'm posting for work on later pages: Downtown Julie Brown appeared in Episode 3761 a re-air from season 27, and Marv Albert is seen in a flashback in Episode 3081. John McEuen was in Kids' Favorite Country Songs. Mark Morris is in show Episode 3775, and Nadja Salerno-Sonnenberg is in Episode 3781. Susan Saint James is in Episode 2977. The Canadian Brass have a few clips up on the video player, and they also performed "Play a Simple Melody" with Bob. -- MuppetDude 13:27, October 28, 2009 (UTC)
Yeah, they definitely have a lot of typos on the document, so thanks for pointing some of them out. That explains why I couldn't find some of the names on a Google search.
Raven appears in an insert episode 2780 dancing with Big Bird. - Oscarfan 22:43, October 28, 2009 (UTC)
As this is obviously a bigger project to deal with over time and not really an open question, I'm taking the talk box off and keeping this in stumping. Note that the below conversation still leaves Rubén Blades (who's not on the 40th book list -- not that that means anything as it's clearly not a complete list) as a mystery from the listing in Unpaved. —Scott (talk) 05:32, November 3, 2009 (UTC)
I can confirm Townsend's appearance; his character "Speedy Van Go" was commissioned to paint the mural on the side of Hooper's Store, but everyone had a different opinion on what it should be about. He combined everyone's ideas to create it. (The fish in the sky was for Wolfgang, and the numbers embedded about the whole mural was for the Count.) -- MuppetDude 20:46, November 18, 2009 (UTC)
Based on the date given (January 15, 1992), it would have been Episode 2925, which makes sense as there are some previous episodes that don't feature the mural, and several after the episode aired with the new mural. -- MuppetDude 14:36, November 19, 2009 (UTC)
Looking at that image, I find it odd that The Count seems to be in the way of some names. --Minor muppetz 03:25, November 21, 2009 (UTC)
We have a sesamestreet.org link for Robbie McGrath, but I can't find any information about him. Was he brought on as a guest star, or is he Bob's brother or something? —Scott (talk) 22:49, November 19, 2009 (UTC)
Unpaved
Help, We're Stuck!
The issue in question is unresolved. Can you help?
Unpaved
lists the following people in the Celebrities section of the book, but we don't have pages for them yet.
Anyone know what they did? —Scott (talk) 00:30, 1 July 2009 (UTC)
Tracy Chapman appeared in this episode and Kid 'n Play appeared in this one. - Oscarfan 00:41, 1 July 2009 (UTC)
And Kid 'n Play already have a page, though it could use some reworking (MuzikJunky wrote it from his perspective, focusing less on their Muppet connection). I'm not entirely sure that Branford Marsalis wasn't a mistake, since Wynton Marsalis is a known guest star, but it's also possible there's an appearance by both of them somewhere. -- Andrew Leal (talk) 01:00, 1 July 2009 (UTC)
Aha. I'll see if I can find something. Some newspaper listings or TV Guide and the like sometimes mention guests, and of course now Sesamestreet.org is a great help, since with specific names, we can keep an eye out if they're ever added; drummer Max Roach's sounds like it could be the oldest, and I found vague references in his website guestbook to his having been in a counting segment, but of course we need more than that.
It looks like this youtube clip (YouTube) may be Branford Marsalis (spelled without the d; doing so turned up some better leads, including the fact that he's performed with Bob McGrath at events), from Episode 2834. He's called "Forrest Wimbledon," but I checked and can find no evidence of a person with that name (all Google results lead to the Wiki or Guillermo's tape site or Muppet Central and the like). It's just a possibility (if it was the person's real name, possibly they were a minor musician or student who never went on to anything which would be documented online), I haven't studied the clip closely and compared it with Branford Marsalis. He has a website but no direct contact (agency and manager only) and a forum apparently existed but is now closed. We could still probably try writing to his agency, but I'm parking the info first, to see if we can check from that with known Branford Marsalis images and performances; it fits the profile and even the time period, but only a YouTube user directly claims it's Marsalis, and we all know how those go (a few have been proved correct through visual comparisons or checking with other sources, just as many can be random and wildly inaccurate).
Nothing on anybody else so far. -- Andrew Leal (talk) 01:39, 1 July 2009 (UTC)
Aha again (newspaperarchive.com is a great resource but a real pain to search, far from user friendly)! From an August 17, 1991 TV listing from The New Mexican: "Hoots and Forrest jam at birdland; guest appearance by Branford Marsalis." We don't have a full episode guide for that page, but unless Marsalis appears elsewhere in the show, and since absolutely nothing can be found for a "Forrest Wimbledon" (since the plot involves the character practicing and learning to play sax, that seems the likely reason why they didn't just call him "Branford"), this seems to be it. At least it's definitely the episode. -- Andrew Leal (talk) 01:49, 1 July 2009 (UTC)
"Oscar Fan" started the page for Episode 2834. Maybe he can provide a more detailed run-down of the episode? —Scott (talk) 01:56, 1 July 2009 (UTC)
As for Edgar "Eddie" Kendricks, his name is around the Wiki quite a bit. He sang the "Cross at the Green" song on the "Signs!" album, wrote Counting Song (1-20), and appeared in Episode 1072. -- MuppetDude 13:56, October 14, 2009 (UTC)
Unpaved lists celebrities, so I'm assuming they meant this Eddie Kendricks whose real name is Edward. Could that be the same guy? I think I have the Signs album, so I could always compare his voice there with one of his albums. —Scott (talk) 16:46, October 14, 2009 (UTC)
I just listened to Cross at the Green and that's definitely not Eddie Kendricks of The Temptations. I assume Unpaved meant him since he's a celebrity. I did find who I believe is our Edgar Kendricks though. There's not a lot of information on him, but he released this album in 1976. I did a voice compare and I'm pretty sure that's him. So I'll make a page for him in Composers, but I don't think that's who Unpaved meant unless they made a mistake (we have found a few of them made by Borgenicht). —Scott (talk) 04:32, October 15, 2009 (UTC)
Well, the scan of SW's document in the new 40th book lists Edgar Kendricks, but no Eddie Kendricks. I'm going to cross him off the list here as I'm pretty sure at this point that Borgenicht saw the name and assumed it was the Temptations guy. —Scott (talk) 22:12, October 26, 2009 (UTC)
Category Creation
After finding that wikipedia has tired creating a list of guest stars, I wondered why we had collected a listing of people who have been on this legendary show. If anyone should be collecting this data it should be us. So I started one.
Similar to the Muppet Show and Muppets Tonight guest star categories – this category is for celebrities that have appeared on Sesame Street. I limited it to the actual television show (where hypothetically episode numbers could be cited for an appearance). This excludes celebrities from Sesame films or specials. Opening it up things like Follow That Bird, Julie on Sesame Street, Sesame Street's All-Star 25th Birthday, Elmopalooza and the rest would add about another 7-8 dozen people. But this category, as it is now, is for celebrities that have been on the television show – not for anyone who has interacted with a Sesame character on film.
I went through the 860+ articles in the celebrities category to add the people here (so if someone on the wiki has been a guest and is not in here, it's most likely because their article didn't make it clear they were ever on the show).
Thoughts? -- Brad D. (talk) 08:08, 7 December 2006 (UTC)
I think the main reason we hadn't created it is as, as you noticed, how many there are, and because it's really quite different from Muppet Show and Muppets Tonight guests, where the guest stars were credited and generally more of a major focus. On Sesame Street, until the most recent season, they were never announced on the show itself (I was a little surprised to find a recent opening, "You never know who you'll meet... On today's episode, T. R. Knight!) and participation ranged from film inserts to walk-ons to occasionally larger roles in street spots. That said, this is indeed a useful category, and actually takes care of a quandary when dealing with occasional one-shot actors on the series who were guests but really aren't celebrities (Carl Gordon, who played Mr. Robinson in one episode, is a case in point). Although I'm just slightly iffy on including folks like Jason Biggs whose sole connection was My Favorite Sesame Street Moments, though, since those were essentially promo/intro spots outside of the show itself. -- Andrew Leal (talk) 15:10, 7 December 2006 (UTC)
Also, should "guest stars" be counted if they only supplied voice-overs, and generally at a time when they weren't major celebrities anyway? I..e Casey Kasem, Gary Owens, and so on. -- Andrew Leal (talk) 15:19, 7 December 2006 (UTC)
I think "guest stars" should be people (or characters) who are treated like celebrities, and who play themselves. So that would include, say, Robin Williams talking to Elmo, or Sheryl Crow performing, but not Stockard Channing or Casey Kasem, because they were playing parts. Arnold and Luxo Jr don't qualify for me, because they're essentially "cast members" in those inserts. They're not treated as special guests. -- Danny (talk) 16:57, 7 December 2006 (UTC)
So wait. I sort of agree with you (definitely on Arnold, who was bugging me, and thus Luxo, and Channing was added because of the "Dance Myself to Sleep" celebrity bit, not the painter inserts), but what about Kerry Butler (personally, I think this is probably a better categorization than celebrity anyway, though since her page was added, her Broadway stardom has increased) or Richard Kind? Maybe a secondary consideration should be that if they did appear as a character, the guest stars were promoted as such in Sesame Workshop press releases and so on. Which still sort of leaves Carl Gordon out in limbo, but we don't have any images of his appearance from Episode 4067 anyway.
Oh, and I'm assuming then that "guest" appearances by any folks who later became or peviously were cast members should be taken out, or does it depend on specifics? i.e. Andrea Martin (several guest spots but always as characters), Michael Jeter (twice appearing as himself outside of Elmo's World), Lillias White (former regular returning years later as a different guest character), and Bill Irwin (two insert appearances pre-Mr. Noodle, one of which was in an "all-star" song version, which thus positions him as a celebrity in and of itself). -- Andrew Leal (talk) 17:14, 7 December 2006 (UTC)
Ad blocker interference detected!
Wikia is a free-to-use site that makes money from advertising. We have a modified experience for viewers using ad blockers

Wikia is not accessible if you've made further modifications. Remove the custom ad blocker rule(s) and the page will load as expected.